Hi to all,
Just wanted to share you guys a sad news, our beloved Lock_code2004 already passed away last week Thursday. Everything just happened so suddenly. Not known to many, especially to the newbies of this site. He is a pioneer here and a great anchor of Pinoyau. He never stopped visiting us here and helping out others even after he already completed his AU Journey.
Thank you so much Lock_code2004 for making www.pinoyau.info your virtual home. You are a legend here that we will never forget.
I'm calling all of Lock_code2004's friends to please extend all the help that you can give to his family, and please join the up coming EB (if you can) to pay tribute to him.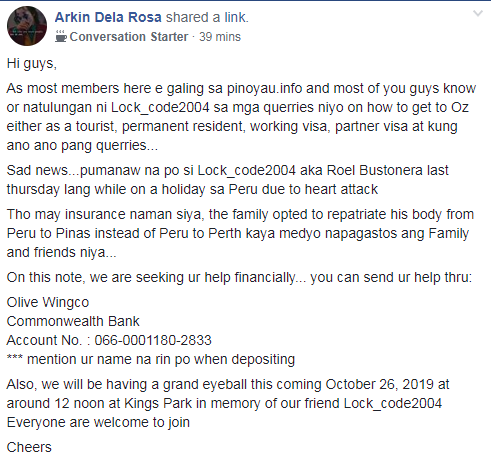 As requested by his dear partner, I will be deactivating his account soon. Kindly refrain from sending any message to his account.
Thank you.
2010-06 : Lurker at philippines.com.au (previously the #1 Pinoy Australian Forum)
2010-06 : Started researching on Visa 175 - Target 120pts
2011-08 : Started prev employer document gathering for ACS skill assessment (0/4)
2010-12 : Philippines.com.au went offline and created www.pinoyau.info
2011-03 : 1st child born - AU dream halted
2014-03 : ACS document - 1/5 emp ref completed
2015-01: Promoted at work - AU dream halted
2015-11: ACS document - 1/6 emp ref completed
2016-09: 2nd child born - AU dream halted
2018-09: ACS document - 6/8 emp ref completed
2018-09: Revised all employment references and affidavit from scratch
2019-03: Completed Revised 8/8 emp ref
2019-03: PTE Exam - L59,R75,S62,W64 (no preparation)
2019-07: Favorable Skills Assessment result for Software Eng
2019-11: PTE Exam - L70,R68,S79,W68 (competent only)
2020-02: PTE Exam - L79,R79,S86,W76 (grr lack 3pts on Writing)
2020-03: PTE Exam - L85,R75,S87,W86 (Mar 4 - grr nag increase L, S and W but bumaba 4pts si R!!!!!)
2020-03 PTE Exam - L81 R79 S90 W81 (Mar 9 - Salamat Lord!!!!)